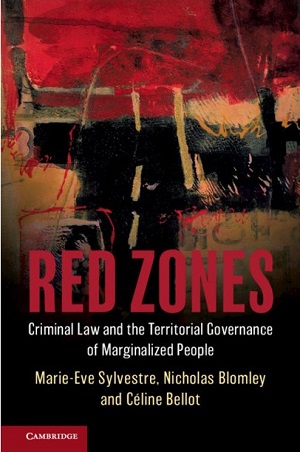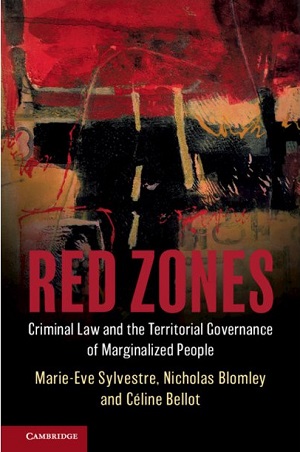 Red Zones: Criminal Law and the Territorial Governance of Marginalized People by Dean Marie-Eve Sylvestre (University of Ottawa, Faculty of Law, Civil Law Section), Nicholas Blomley (Simon Fraser University) and Céline Bellot (Université de Montréal).
Published in 2020, the book was unanimously awarded the W. Wesley Pue Book Prize by the Canadian Law and Society Association. It was also cited in the Supreme Court of Canada's decision in R v Zora, 2020 CSC 14.
As the book description explains: "In Red Zones, Marie-Eve Sylvestre, Nicholas Blomley, and Céline Bellot examine the court-imposed territorial restrictions and other bail and sentencing conditions that are increasingly issued in the context of criminal proceedings. Drawing on extensive fieldwork with legal actors in the criminal justice system, as well as those who have been subjected to court surveillance, the authors demonstrate the devastating impact these restrictions have on the marginalized populations – the homeless, drug users, sex workers and protesters – who depend on public spaces. On a broader level, the authors show how red zones, unlike better publicized forms of spatial regulation such as legislation or policing strategies, create a form of legal territorialization that threatens to invert traditional expectations of justice and reshape our understanding of criminal law and punishment."
We have assembled an outstanding group of generous contributors for this book symposium including Justice Patrick Healy (Court of Appeal of Quebec), Professor Mariana Valverde (University of Toronto), Professor Ayobami Laniyonu (University of Toronto) and Professor Adelina Iftene (Dalhousie University). We are also grateful to the authors for responding to the reviews.
Click here for more information about Red Zones: Criminal Law and the Territorial Governance of Marginalized People.